Microsoft released a new Roadmap for Microsoft Dynamics GP at the GPUG Amplify, which shows the next three releases. This roadmap also ensures that Microsoft will continue to build and improve Microsoft Dynamics GP for the foreseeable future.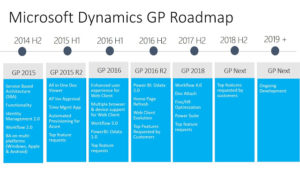 The next version which Microsoft is getting ready to release is Microsoft Dynamics GP 2018. This release is due by the beginning of January 2018. This release includes:
Workflow version 4.0
Document Attachment functionality
Optimization of Financials and HR/Payroll
Power suite Improvements
Top new features requested by customers.